Welcome to the WWOOF program in Canada. World -Wide Orientation to Organic Farms , Willing Workers On Organic Farms and World -Wide Opportunities on Organic Farms. Vacationing in Canada and volunteering on Organic Farms is a great way to broaden your education and practical experience. It also serves as a great way to inexpensively travel. Over 400 farm hosts - a great variety of choices - will introduce you to the many interesting aspects of Canadian farms and gardens. WWOOFing is a cultural exchange.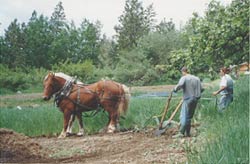 For those coming from overseas - Europe and Asia - you must have a simple basic understanding of English. You will be expected to learn, share and participate in the daily farm/garden and home activities. You are welcome to stay 1 week or longer; some hosts request a minimum of 2 weeks (so that you can orientate yourself to the farm scene; many volunteers stay 1-3 weeks then move on to another farm - thus gaining a variety of experiences. You are free as to how long you can stay.
Do I need experience to be able to be at a farm?
No, yet you do need to bring a willingness to learn, laugh and try your best. The hosts will guide you to appropriate helping experiences.
WWOOF Aims
to get firsthand experience of organic farming & gardening and to lend a helping hand wherever needed


to get into the countryside and experience Canada and Canadians.


to help the organic movement, which is often labour intensive and does not rely on artificial fertilizers & pesticides.


to make contact with other people in the organic movement.


to have a wonderful enriching experience.


to enable people from all over the world to have a cultural exchange with Canadians.
Best Time To WWOOF
The best time to WWOOF is of course between early spring ( April on the eastern side of Canada; February/March/April in British Columbia on the western side of Canada) to late autumn/fall. There are numerous hosts that accept volunteers all year round. This is often indicated in the hosts write-up. However even if it is not indicated, feel free to ask any host if they accept WWOOFers in the winter, if you desire to wwoof in the winter.