Upon receipt of your application form and your membership fee, we will immediately mail you the descriptive WWOOF Canada book. You then can browse through it, highlight your top choices and arrange to contact them. It is advisable to telephone them as the easiest way to contact the hosts of your choice.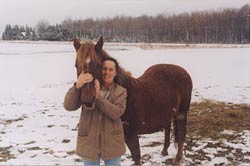 It's often a good idea to contact the host in advance of your visit. Remember, if you send a letter also provide a self-addressed return envelope and sufficient postage (International Postal Coupons).
The host may be busy so you may have to be patient.
Have fun WWOOFing!