Below are a few quotes from letters we've received over the years, demonstrating just how wonderful WWOOfing is!
"Thankyou for being here, this beautiful place and beautiful faces will stay with me always. It's been a pleasure and an honour to share this summer here and I hope we made a difference. Such as unique, truly inspirational place to find on this planet. I will be taking this feeling with me to inspire and spread the experience."
Robin from England about a farm in Northern B.C.
"I received a warm welcome, had my own comfortable bedroom, tasty meals and on top of all that, they took me to see beautiful places in the area." Annette from Germany "WWOOFing impressed me very much that I want to do it again. It's a wonderful way to meet ... people."
Suzanne from Switzerland.
" The whole WWOOFing experience really worked for me (travelling alone), not only was it an incredibly inexpensive way to travel, it also enabled me to meet wonderful people."
Nicola from Sweden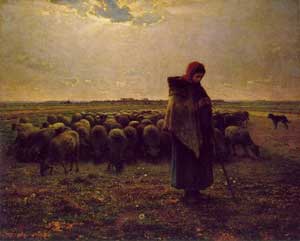 Shepherdess on a WWOOF farm by Jean-François Millet
"WWOOFing is one of the greatest learning experiences I've ever had. I'm glad it's in Canada."
Paul from Victoria, BC
"Thanks very much for the very interesting WWOOF booklet and for answering my questions"
Judith from Scotland
" It has certainly worked out well for us. These young people work their hearts out brightening our lives with their warmth, energy and intelligence."
Doug - WWOOF host Nelson, BC
" Lovely farm, wonderful people, lots to do."
Sophie from England about a farm on Pender Island, BC
"I had a fabulous stay with the people on the farm on Maude Island. That week deeply inspired me."
Natasha , BC
"It was like being aboard a modern-day Noah's Ark of cultures. I had the great pleasure to get to know new friends from Canada, Australia, England and Germany. This sort of cultural exchange may not seem all that unique in this age of globalism, but for those of us who live in the country, the WWOOF program offers us an opportunity to share with people from all over the World."
A WWOOF host in Northern B.C.